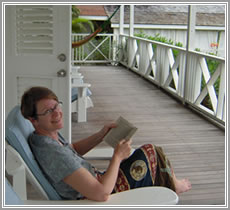 Welcome to Monica Macaulay's website. I'm a linguist at the University of Wisconsin-Madison, specializing in the morphology of American Indian languages. I have worked on Chalcatongo Mixtec (Otomanguean), Ojitlán Chinantec (also Otomanguean), and Karuk (Hokan, spoken in Northern California).
I currently work on Menominee, and am helping out with the tribe's language preservation programs. I'm also part of a group that's working on a dictionary of Potawatomi.
I was in the English Department at Purdue University for seven years before coming to the UW in 1996. I'm the project director for WILMA (Women In Linguistics Mentoring Alliance), and am part of the Linguist List review editors team.