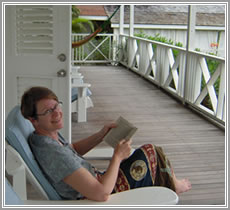 Welcome to my website. I'm a linguist at the University of Wisconsin-Madison, specializing in the morphology of American Indian languages. I have worked on Chalcatongo Mixtec (Otomanguean), Ojitlán Chinantec (also Otomanguean), and Karuk (spoken in Northern California).
I currently work with the Menominee, helping out with their language preservation programs. I'm also part of a group that's working on a linguistic corpus of Potawatomi. I am co-editor of the Papers of the Algonquian Conference, and I am President of the Endangered Language Fund. You can learn more about me here.
Linguists of the female persuasion, check out WILMA (Women In Linguistics Mentoring Alliance, a project of the LSA).